A One-Stop Shop: Your Marketing Dietician
pdtcseo
Polarity Design Team is your one-stop shop for your design and collateral needs. We take jobs that usually take 2, 3, or even 4 companies to accomplish and facilitate them all in one place. We'll design your projects, proof them out, order the prints, and coordinate delivery for you. Many design firms will send you your files, then you're on your own to get them printed (and good luck figuring out if you want uncoated 16 point paper or a gloss finish 14 point). Let alone the hassle of proofing out the prints or troubleshooting errors.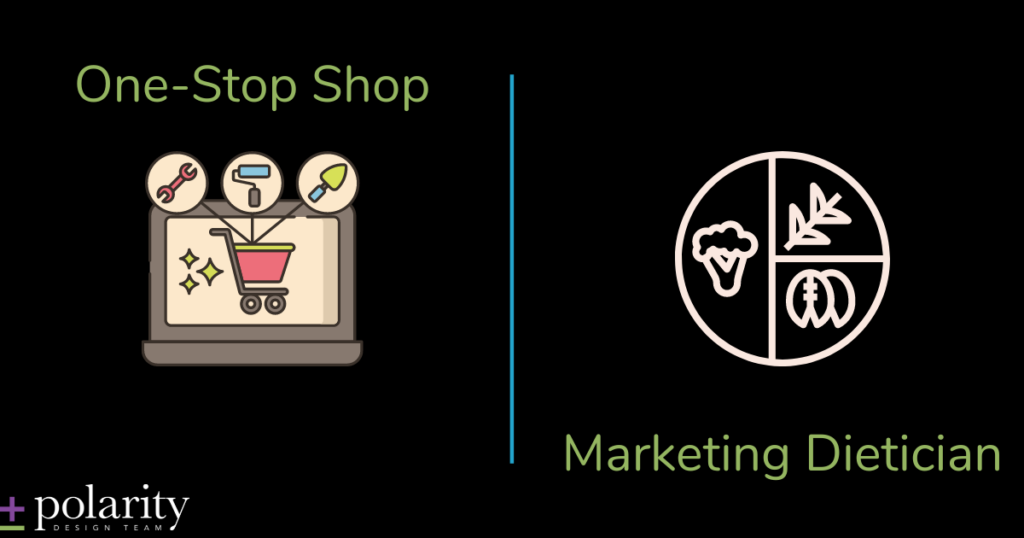 The DIY Mentality
Think of it in terms of health goals. Obviously, you can evaluate your goals, do the research, and calculate your ideal macronutrients. Then you absolutely can go to the grocery store, purchase your ingredients, and prepare each of your meals every week. It saves you money, sure. But it's time-consuming and exhausting, and ultimately you don't really know if you're eating the right foods to achieve your goals.
Many people want to be their own marketing dietician in the hopes of saving a buck. Especially in a world with Pinterest and Instagram, it's easy to think that DIYing your projects is not only easy but also fun. In our experience, these clients quickly realize it's more of a hassle than it's worth. It's not work many people enjoy. It's not work many people understand right away. They often become overwhelmed by the options and vernacular of the industry they're trying to fake their way through. Sometimes they're not working with reputable companies and are taken advantage of, and/or upsold into products they don't need or want. They don't know if they just got products that are actually going to help their business grow.
What we're saying is, you don't know what you don't know. And we are talking about the language of the industry as well as assumptions about pricing. There's an assumption that convenience = astronomically expensive, but many of our clients are pleasantly surprised by their actual quotes. We've been able to work out deals with most of the print shops we've built relationships with (and pass those savings on to you). 
A DIY mentality is thrifty, but in the long run doesn't always pay off as well as a one-stop shop can. 
The One-Stop Shop Solution
Or you can hire a dietician who will evaluate your goals, assign your ideal macronutrients, prepare healthy meals for you and stack them neatly in your fridge so all you have to do is grab one (or two) prepared meals on your way to work. You know everything has been taken care of and you don't have to worry about a thing. Your dietician is your health goal one-stop shop. 
Think of us as your marketing dietician for hire. Each specialist at Polarity Design Team is well-versed within our industry. We bridge the communication and overwhelm gap for you for a seamless process.
We're able to sit down with you, evaluate your goals, and "prescribe" the products and services you need that fit within your budget. Then, not only do we design those products, but we're able to negotiate with printers, advise on materials needed, and coordinate printing and delivery. This makes us not just your design agency, but also your production broker: a true one-stop shop.
The Bottom Line
Hiring a broker isn't necessarily the expense you may assume it is. To quote one of our owners, Trent, "It never hurts to ask."
Your do-it-all dietician is a great way to accomplish your goals and free up your time and energy. Now you have time to plan your workouts and hang out with your kids and still reach your goals. Our one-stop shop frees up your time and energy for the things that matter, like paying your bills. When you hire Polarity Design Team, all you have to do is open the package and "eat." Bon appétit.