5 Website Tips to Generate Brand Trust
pdtcseo
These 5 website tips will help you generate trust in your brand, no matter your industry. The truth is, people shop from brands, and having great products or services isn't enough anymore. In a world full of social media, long memories, and brand activists, the art is seldom separated from the artist any more – for better or for worse. 
And you know what? That's actually fine. Your brand has something to say, and it's something that resonates with other people, we promise. These website tips will help you find those people and generate trust in your brand so that they know, like, and trust you – which ultimately leads to sales and conversions. 
5 Website Tips
These simple website tips are easy to implement yourself or request from your designer. Even so, they're surprisingly overlooked by many businesses of all sizes! 
This article was originally a social media post, but it was pretty popular and we got several questions about it. So we decided to make it into a blog post where we could go into more detail about each of the steps and why they're so important (plus information about 2 bonus features that boost conversions).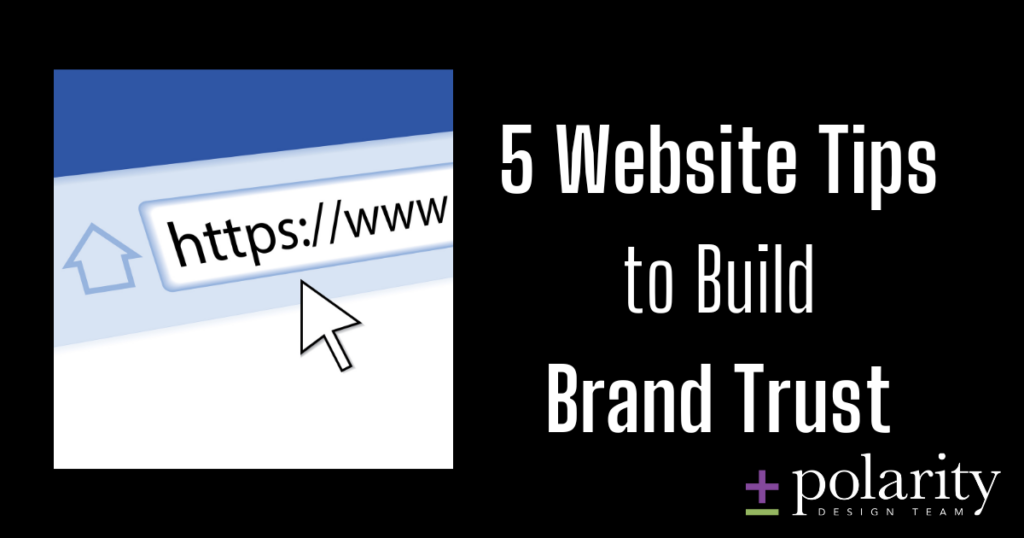 Tip #1: Keep It Simple
A clean, uncluttered design makes it easier for users to navigate your site and find the information they need. Easy page (or jump-to tabs on a one-page site) tabs to direct to products, services, pricing, FAQs, and/or contact information are standard, regardless of industry. Too many tabs is overwhelming and cramps your header. 
If you have multiple pages that need to be made, consider 'nesting' tabs using a drop down menu. For instance, if a spa offers hair, nails, lashes, and facials, they shouldn't put a tab on the header for each of those. Instead, they should consider a 'Services' tab that opens a drop down for options to choose from. From there, each tag can open a specific menu page for those services. 
Along that same line, really think about how you can streamline the site. Instead of having 5 pages, can it be reduced to 3? You want to give your consumers the information they're looking for without drowning them in it.
Of course, there's more that goes into a clean, uncluttered design than using too many tabs or having too many pages. 
Streamlined Design
It's tempting to tell your entire story and give every detail. It's tempting to educate your audience on every service you offer. And it's easy to go overboard on long seas of text. 
The fact is, most people don't read long seas of text, making this a website tip you don't want to ignore. They'll read 2 or 3 small paragraphs, and that's it. To keep your site streamlined, it's best to separate 1 or 2 paragraphs by beautiful photos or reviews to keep them scrolling. Give the TL;DR (Too Long; Didn't Read) version of your 'About Us,' 'Services," and "FAQs" pages.  
The long explanation of each service or product should be saved for after contact is made and you're offering solutions or answers to questions they have after searching your site. 
That being said, if there are no answers on your site, there will be no trust or interest generated. Going back to a spa site, an example of this would be quick explanations of a service. You don't need to explain the steps of a facial, the equipment used, how the equipment works, how long it takes to see results, and why they need it. 
Simply list what makes it special, and what it's good for. Exfoliation using an ultrasonic scrubber will brighten and rejuvenate skin by decongesting pores. Great for acne and antiaging is fine. But it does need this type of explanation, rather than simply listing "Ultrasonic Facial." Most of your clientele will not know what that means and therefore will not book it.
From there, if they're not sure which acne treatment they want, you can discuss the major differences and consult on which is the best option for them. 
Tip #2: Use High Quality Images and Graphics
Images are one of our most suggested website tips. We have an entire post about the hierarchy of website images. Unfortunately, not all photos and graphics are created equally. Quality images of your actual food will sell better than no images of your food. Poor images of your food may not sell as well as stock photos do. 
Fortunately, images are easy enough to swap out so you can always upgrade to higher quality photos and images as time goes on. However, as a tool to split up seas of text, showcase your portfolio, and give examples of your work, images are necessary to every website, regardless of industry. 
High-quality images and graphics make your site more visually appealing (and therefore more trustworthy), as well as more engaging (and therefore higher converting). Most consumers, especially the younger generations, will visit a website long before they pick up the phone. They will also make snap judgments about your company based on said website. 
If your website looks like it's 2002 raw code and written in Comic Sans, you can bet business will go to the competitor who has a current, fresh website every single time. If your website is long paragraphs of text and offers 0 photos, you can bet the same. 
Photos and graphics detailing your work, site, or business are paramount to the success of a website.
Tip #3: Design with Visual Hierarchy in Mind
Visual hierarchy should be used in every design, making it not just a website tip, but a design tip in general. A design hierarchy directs the eye to information in the order of importance, using size, color, and typeface for a great user experience. 
Generally speaking, people will look at the largest text/image first, especially if it's at the top of a design. They'll also look at a brightly colored graphic before reading simple black text. Hierarchy is often used as a heading, subheading, paragraph format (like this blog), but can also be used creatively. Having an image on the left of a page, text to the right of it, and then below swapping so there's text on the left, and an image on the right, guides the eye in a snake-like pattern down the page. 
This is easy to follow, breaks up the text, and guides the eye to information in the order you want it read in a way that's easy and comfortable for your consumer. It's also a great way to insert call-outs like testimonials or special promotions mid-page so people are all but guaranteed to see them when scrolling through the page. 
Large and bright = top of the hierarchy. Fine print at the bottom of the page = absolute bottom of the hierarchy. At the top of the page = top of the hierarchy. At the bottom of the page = bottom of the hierarchy. A designer will help you prioritize your information so your clients receive what they need, when they need it.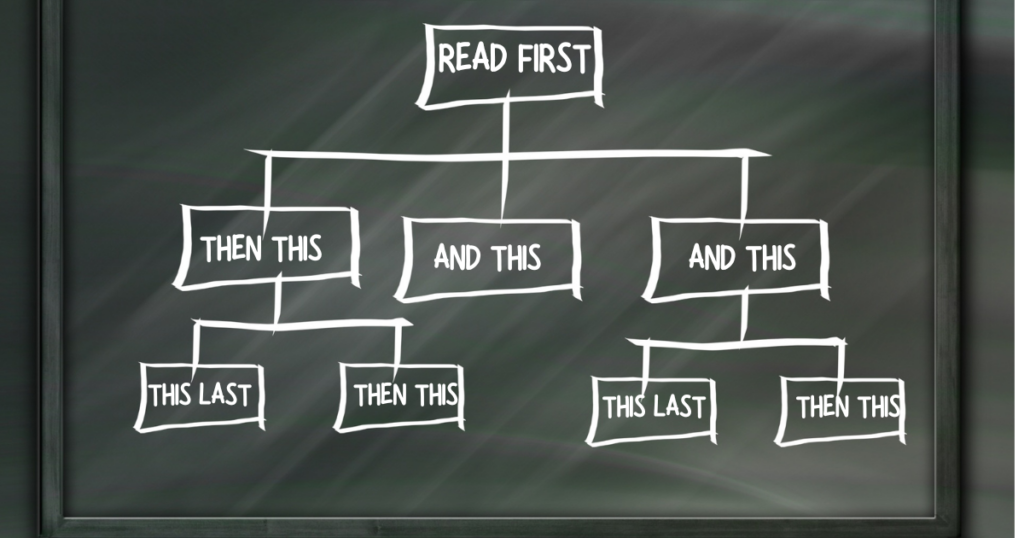 Tip #4: Use Color and Typography Wisely
Color and typography are not only vital website tips, but also vital to your brand in general. Use color and typography to create a cohesive design that reflects your brand. As stated above, color and typography also guide users through your site. 
Too few colors and font variations make your site disengaging. Too many makes your site overwhelming. As an example, lots of bright colors or a separate font for every section makes your brand appear juvenile and unprofessional. Neither of those words result in conversions, unless your product is for unprofessional juveniles. However, if your entire website is in Times New Roman and in one size, it's boring, and disengaging. Those words also don't result in conversions. 
A trend right now is brands using 1 script font to highlight big points, and a blockier, clean font to give information. Each can be used in various sizes to guide through visual hierarchy as long as they're readable. Script fonts especially can be hard to read. If your customers can't suss out what's being said, they're not going to spend a lot of time trying. They will simply move on. A beautiful script font may be visually appealing but ultimately useless if it's not readable for the masses. We have a post about the importance of readability here.
This makes typography important to any marketing effort, and especially makes it a website tip you don't want to overlook. 
Tip #5: Keep It Up to Date
Possibly the most overlooked website tip is keeping your site current. This doesn't mean you need to be rebranding and building a new site every year or two. It does mean, however, that your service menu, hours, and pricing need to be accurate. It's a bad look if someone comes to your spa expecting a facial to be $55, but is charged $65 because you increased your prices without updating your site.
Many businesses treat their website as a "set it and forget it" set up. They get it live and simply forget that it exists. It's especially bad form if your website mentions time-sensitive things that date the site and show that it hasn't been updated. 
Advertising a long-passed tradeshow, out-of-season event, or referencing outdated current events are all signs that your website is not updated regularly and leaves consumers questioning whether you're still in business or if you're just lazy or out of touch. Those aren't the types of assumptions you want made about your company, either. They don't foster trust in your brand, and may even be off putting. 
Even if your main content is evergreen, it's worth regularly posting new content through a blog or calendar for SEO purposes. Search engines prioritize websites that are updated regularly and are continually updating their content. Google, especially, operates largely as a referral service and wants their customers to be happy. Their algorithm is complex but it will determine which websites will ultimately achieve highest customer satisfaction. Fresh copy achieves that, especially if it's uploaded with SEO in mind. 
Bonus Website Tips:
Load times that are a fraction of a second slower than people want leads to abandoned searches. Customers have come to expect websites to load quickly and efficiently. They frankly will not wait for a page to load. They'll exit the tab, and likely never return. If your site runs slowly, work with your designer on solutions to speed it up, because that may be why you're not converting. If you're unsure how your load times stack up, ask your designer for the variety of diagnostics up their sleeve to test (and fix them, if need be).
Accessibility for users with disabilities is so under utilized. Alt descriptions for every photo and graphic describing what is depicted will make your site more engaging. Giving your links unique and descriptive names (click "here" doesn't tell them where that link will take them). Going back to color choices, use easily visible colors. For instance, yellow is often hard to see, depending on the shade and background. Label form fields correctly so they're able to fill them out accurately. Don't allow videos to play automatically, and make sure the controls can be used with a keyboard. This allows the user experience (and therefore conversion) to be greater when users with disabilities use your site. 
Users with disabilities will trust your brand over other companies who have not taken their needs into consideration. This will undoubtedly lead to them choosing you over competitors.
As an added bonus, these two website tips also boost your SEO (we told you Google's algorithm was intelligent), and allow you to rank higher when people search for relevant search terms. 
The Bottom Line
These 5 website tips will generate brand trust in your company. As with most marketing, it's a marathon, not a race. However, today's consumers want to purchase from a brand they believe in, and simply having the best product or service on the market isn't good enough. Companies with great marketing who have invested in their brand image will see higher success rates every time. 
Polarity Design Team excels at branding as well as websites that convert. If you need help getting on the right track, you know where to find us.