What is Marketing Collateral?
Trent Jensen
If you've worked with Polarity Design Team — or any agency — you've probably heard the words "marketing collateral". You may be wondering, "What is marketing collateral?" If you're new to the industry and know the definition of collateral, you're possibly confused. Or you suspect we don't know what that word actually means.
When we refer to marketing collateral we mean: any media used to promote or communicate your products, services, brand, or message. Your brand usually presents itself by way of its collateral to enhance its messaging through consistency.
Historically, and most commonly, the term refers almost-exclusively to physical, tangible materials such as brochures, flyers, business cards, etc. If you can hold it in your hands and glean information about your company, it's referred to as collateral. However, with today's technology, it can also include intangible marketing tools such e-books, videos, graphics, or QR codes. It can really be anything you're disseminating to your customers to promote your company and its offerings. Effective collateral will support the sales of your products or services, educate and entertain your clients, and keep them informed.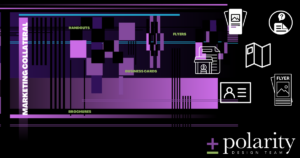 What Makes Marketing Collateral Effective?
So what's the special ingredient that makes marketing collateral effective?
The unfortunate fact is that people do judge books by their covers. Your customer base is going to quickly make inferences about your company and brand based on the information immediately available. That information is often presented more subliminally through logo and business card designs. It's presented much more blatantly through flyers, postcards, websites, etc. Because of this, you need your collateral to match your branding. But as an added layer, you also need it to say the right thing about your company. Professional designs, readable fonts, concise wording, appropriate colors, etc. are necessary to accomplish your end goal.
Effective collateral will quickly paint a clear (positive!) image of your company. It will state what you stand for, what you're trying to say, and what you bring to the table. For instance, without saying a word, you can communicate that your demographic is upper-class women with disposable income. The material your salon's business cards are made out of and the fonts you choose will do this for you. Alternatively, you can communicate a restaurant is an affordable, family-friendly spot by using different fonts and materials.
There's a fine line, though. While communicating that you're offering premium salon services, you don't want to intimidate or alienate potential clients. The reverse is also true. While communicating that your restaurant is affordable, you don't want to imply your food is bad by using printer paper and hand-drawn logos.
How and when you use each type of collateral will help you communicate your message clearly.
When Do You Need Marketing Collateral?
The next question may be, "Ok so when do I need this marketing collateral? It's expensive to start a business; is this the kind of investment that can wait?"
The confusing answer is, well, yes and no. We're not saying you need to take out a small loan for thousands of premium brochures and business cards right away. However, it's never too soon to have something you can pass along to prospective clients or customers. This can be as simple as handing out a well-thought-out, quality business card in the early stages of your business. You can progress to more sophisticated or targeted media as your marketing efforts ramp up.
The simple answer is, you need marketing collateral any time you're doing any kind of advertising. That's at the first formation of your company (handouts while approaching investors), or presenting your ten year anniversary gala (embossed invitations). If you're new to this, need unique marketing ideas, or just have questions you need answered, ask. A quality agency will help you decide when you need what, and problem solve to keep you within your budget.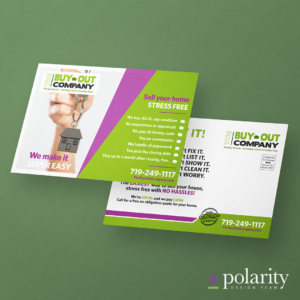 What to Look for in a Designer
You know what marketing collateral is and when you need it. Now you need to know what to look for in a designer when it's time to execute these oh-so-important materials.
A good design agency will work with you to flesh out your message into marketing collateral that's effective. They'll also be able to use your existing branding information to create material that is consistent. Furthermore, a reputable agency can suggest which materials to use in addition to designing them. Phrases from print shops like, "14 pt uncoated stock" or "raised spot UV" can be confusing to laymen. It's easy to just choose an option without considering — or even being aware of — how that affects your overall message. This is especially tricky to navigate when cost is an issue. A good agency will explain what those options are and help you choose what to ask for. At the very least, they can refer you to a trustworthy shop to help you. Even better, they may facilitate the production of your marketing collateral for you.
Polarity Design Team is well-versed in the printing industry. Several of our team members having worked at print shops both large and small in the past. We're here to help your branding efforts from top to bottom. We pride ourselves in the relationships we've built with our clients as well as our relationships with multiple printing companies (based on each specialty). We're here to help you find fair deals for the production of your designs and simplify the process.
The Bottom Line
Obviously marketing and advertising go hand in hand with any business's success. The bottom line is marketing collateral is inevitable. However, with a clear branding message and a trusted team of designers or marketing specialists, you can navigate the waters and promote your business in effective, affordable, client-pleasing ways.