SEG Fabric as a Marketing Tool
pdtcseo
Fabric projects as a marketing tool are often overlooked – possibly because many people don't know they exist! SEG (silicone edge graphics) fabric is a versatile way to market, promote, or even decorate your business. 
SEG fabric is used by large companies like Old Navy in their retail locations, but isn't exclusive to large company budgets! It's one of our favorite projects due to their versatility and accessibility.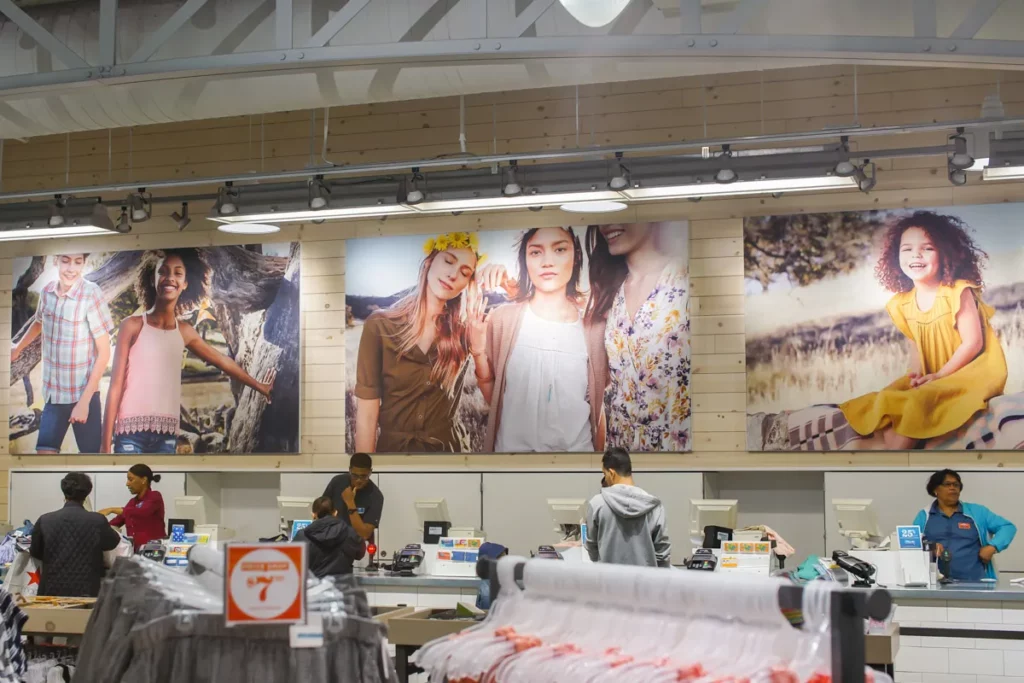 What is SEG Fabric
SEG Fabric in this context are large strips of fabric with a silicone edge (or beading) that slide into the channels of a large metal frame. This frames the fabric tautly, stands it upright, and doesn't require any wrapping or clamping like canvas does. 
The frames can be freestanding, mounted/attached to walls, and they come apart for convenient storage. It's helpful to not need to find a place to store clunky, fully assembled metal frames. The fabric can safely be rolled up for storage, which is particularly helpful for seasonal or promotional prints. Many promotions may not apply year-round, but are needed year after year.
For further convenience, you don't need to replace the frames every time you want to change things up. Simply order a new fabric insert (they're relatively inexpensive!) and voila – you have a fresh display. 
What to Use Fabric Projects For
SEG stands can be used strategically through your office or store to act as a room divider, guide traffic, or market promotions. We use them to create mini 'offices' in our small space and have a simple brand design on them to create visual interest in an otherwise generic space. 
You can also print them with seasonal designs or inspirational messaging – the sky really is the limit for what you want to put on them and use them for.
For large companies with multiple large, expansive trade show booths each year, fabric projects in any capacity are a great way to draw attention to your booth and direct your traffic quickly to key points. 
Many vendors don't enforce a minimum order for SEG fabric projects, which means you can get as many as you want/need for your business. For those looking to upgrade their displays on a budget, this means you can start slow with 1 or 2, and then buy more when the budget allows. We are believers in not taking out a ton of debt to market your business.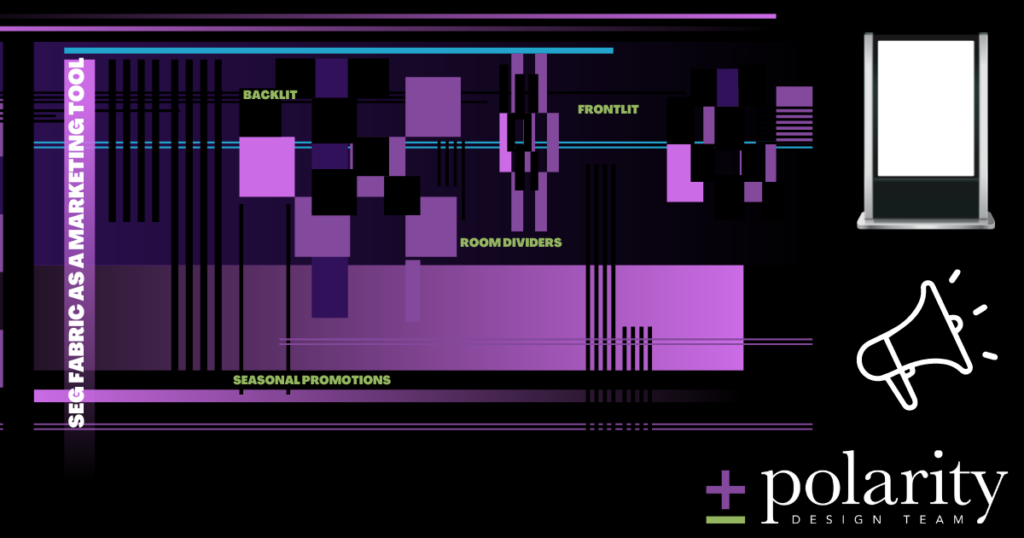 SEG Fabric Variations
There are unlit, backlit, and frontlit options to choose from with your fabric project. 
Backlit frames give your fabric project extra vibrancy. Your image will appear to glow from within for an eye-catching flair that will stand out from competitors' displays. 
Frontlit fabric projects use a different, denser fabric to draw attention to your display, but it won't necessarily "glow." These fabric projects sit closer to a wall and are meant to block out anything from behind the stand. 
The frames themselves also offer quite a bit of customization. They can be powder coated in number of finishes to complement any branding or style or decor. Powder coating uses an electric charge that fuses a dry powder to the surface of the metal. This is then cured to achieve a smooth coating. It is usually used to create a hard finish that is tougher than conventional paint. Interpret this all to say: you can get your frame in almost any color.  And it won't scratch, peel, or tarnish like traditional paint may. 
The Bottom Line
Fabric projects are an underutilized, versatile tool to leverage for any office or retail space. We at Polarity Design Team use them ourselves. Naturally we recommend them to a number of our clients to suit their needs as well. If this is a project you're interested in for your business, please don't hesitate to let us know! As your one stop shop for all your marketing needs, we're able to design, print, and even assemble your SEG fabric stands all in one spot.