Pros and Cons of Vehicle Wraps
pdtcseo
Vehicle wraps can be an investment that pays off when small businesses use them as a marketing tool. 
Vehicle wraps can be great for small businesses such as local restaurants, plumbers, electricians, and landscapers. They're also used by delivery and transportation companies such as UPS, FedEx, and DHL. Easily identifiable vehicles make their services stand out against other cars on the road. You've likely also seen them on service companies such as pest control, HVAC, or plumbing! 
However, many are surprised to learn they work well for non-profit organizations as well! Charities and community organizations need visibility in order to operate. A vehicle wrap is an effective way to raise awareness to their cause and can promote their events. 
That being said, there are pros and cons to investing in a wrap, which we'll get into. But first, it's important to understand what we mean by "vehicle wrap" because they're not the same as window perf, vinyl decal, or car magnet. 
What is a Vehicle Wrap?
A vehicle wrap is a vinyl film that is applied to the exterior of a vehicle, such as a car, truck, or bus. The film is printed with a custom design or image, such as a company logo, advertising message, or promotional graphics. The wrap covers the entire exterior surface of the vehicle, including the windows, and can be easily removed without damaging the vehicle's paint. 
While not permanent, they're not meant to be removed and replaced every few weeks or months, and are best used as an evergreen marketing tool displaying services, contact information, and branding rather than temporary promotions or sales.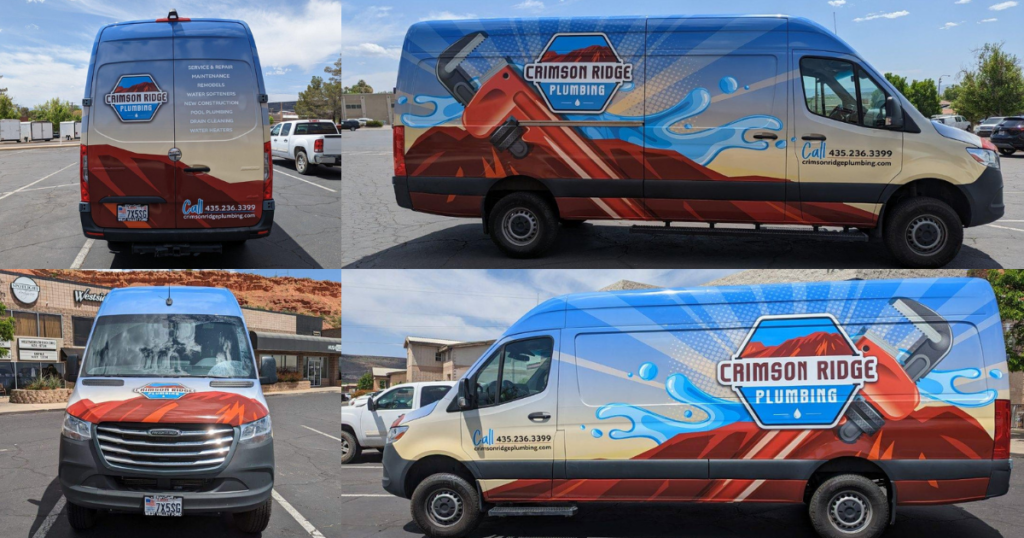 Pros of Vehicle Wraps
High Visibility
Vehicle wraps offer high visibility since they can be seen by people who are driving or walking past. This makes them a highly effective marketing tool for businesses that want to increase their brand awareness.
Have you ever found yourself in need of a plumber and thought "Oh, I've seen those Got Poop? trucks all over town, I'll give them a try"? That is the effect of high visibility marketing, and the power a vehicle wrap has to bring in business while parked or driving from location to location. 
Your vehicle is going to do those things either way, so you may as well put them to work at bringing you to the front of peoples' minds while they run errands.
Mobile Advertising
Since vehicle wraps are on the move, they can reach a large audience and are seen in different locations. This means that businesses can use them to advertise their products or services in different areas without additional costs. 
For instance, you have to pay for each individual billboard to be seen at different places along the Interstate. You invest in a vehicle wrap once and then it is seen all over, reaching a large audience over a long period of time. 
Cost-Effective
While the upfront cost can result in some sticker shock, vehicle wraps are relatively cost-effective when compared to other forms of advertising such as billboards or tv commercials. This makes them an ideal option for small businesses or startups that are looking for the biggest bang for their buck.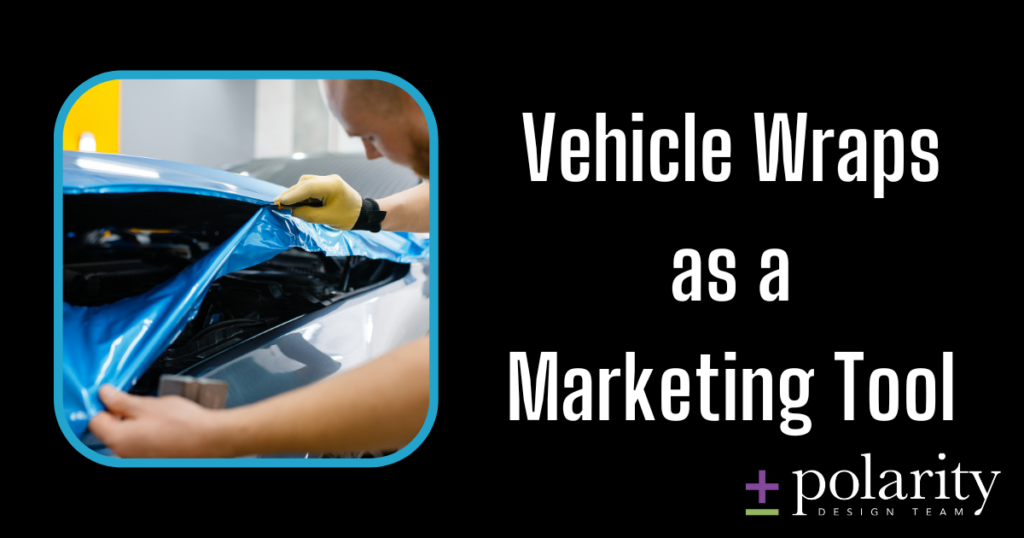 Cons of Vehicle Wraps
Limited Targeting
Vehicle wraps are not highly targeted since they are seen by a broad audience. This can be a disadvantage for businesses that want to reach a specific demographic or audience. Advertising options such as social media marketing or Google ads allow you to hone in on the exact customer you are targeting, whereas a vehicle wrap is geared towards anyone who happens to pass it.
Time-Limited
As stated above, vehicle wraps are not meant to be permanent. They have a limited lifespan since they can become worn out or outdated. This means that businesses may need to replace them after a few years, which can be costly. 
To extend the lifespan of your wrap, park in a garage or use a cover to protect from sun damage. Alternatively, you can use the "microwave" approach when parking in your usual spot. Back into it one day, and park normally the next. This rotates the side that is getting the bulk of the sun each day so one side doesn't bleach faster than the other.
Installation and Removal Costs
Installing and removing vehicle wraps can be costly. This is especially an issue if your business has a fleet of vehicles. Some companies offset that cost by updating their vehicles one at a time. This can be a significant disadvantage for small businesses or startups that are trying to keep their marketing costs low. 
The Bottom Line
Overall, any company that wants to increase its brand awareness and reach a broad audience can benefit from vehicle wraps. At Polarity Design Team, we find that they're a popular item among our clients. We are skilled in taking the measurements necessary for an accurate, well-executed vehicle wrap. We even have connections with install companies for a truly one-stop shop for your marketing needs. Let us know when you're ready to get started!