A Good Graphic Designer Is Your Digital Stylist
pdtcseo
A good graphic designer should be your digital hairdresser. Not only should they be able to make you (read: your company) look beautiful, but they should also be able to tell you if something you want isn't going to work. 
If you've ever sat down in your salon chair and showed your stylist a picture of what you want, you're probably in the company of 98% of everyone else who's ever been to a salon. If your stylist has ever looked at that photo and said, "oh honey, no," you're in the company of a much smaller (though frankly lucky) group of people. 
It's disappointing when the look you have in mind is shot down. But you know what's more disappointing? Getting home and realizing that you went home with a cut that doesn't work for you. Hiring a good graphic designer may have similar interactions.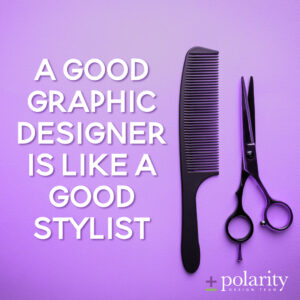 A Good Stylist at the Salon
Bear with us while we explain what on earth a hairdresser has to do with a good graphic designer.
One of our team members went to a salon and showed the stylist a picture. Her stylist had the foresight to say, "Honey, you're white." She then patiently explained that our employee had fine, straight hair and it would defy the laws of physics to ask it to behave like the hair in the photo. 
A third once went in asking for her long hair to be chopped into a pixie cut. The stylist understood there had just been a breakup and advised she wasn't comfortable making a huge transformation right now. She suggested they reschedule in a couple of weeks to ensure this wasn't an emotional decision she would regret. After a week or two, this employee was feeling better and super thankful she still had all of her hair.
These stylists were good at their job. An uncomfortable and possibly disappointing conversation on the front-end saved a lot of disappointment and frustration down the road. A good graphic designer should behave like them in almost-identical ways. 
A Good Graphic Designer in the Agency
Our designers are here to help you and your company look pretty. And that includes whatever 'pretty' means to you. If you need a hard-hitting, tough-looking logo for your martial arts business, we can execute that and do it well. But we'll also tell you if the design you want for your real estate business looks more like a high school mascot's design. Or if your logo looks like it should be for an interior decoration shop instead of your construction company. 
A good graphic designer will help you find the lines, textures, and colors needed to portray your message. They'll help you get the look you're going for, even if you don't know what that looks like. 
Like your hair stylist, we're here to evaluate your company's goal and overall image to put together designs that accomplish those goals. And, like a good stylist, a good graphic designer will help correct the course if you're not on the right track.
The Bottom Line
Hiring a design agency should very much be a partnership. It's your business and you get the ultimate say. But a good graphic designer will have insights you may not have thought of, even if it's disappointing to hear at first. Your designer should work like your favorite stylist: working with you to find something you like that also looks great. If you're ready to partner up and style your business, you know where to reach us.